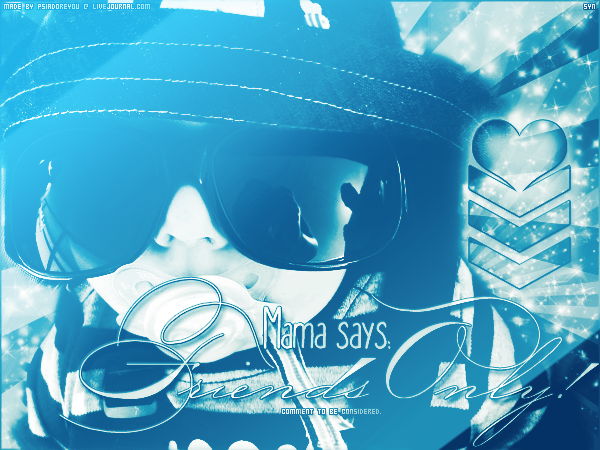 Made by
psiadoreyou
My journal is friends only. Comment to be added. I always add everyone.


So Alex started Kindergarten and it has been going god awful for him. So far this year he has manged to ( in the span of almost 2 months )

- Scale the book self and almost have it come crashing down on him. It was during circle time. He just got right up went to the book self and started to climb it.
- Slam his head on a desk on purpose. We have been noticing that he is starting to hit himself when he comes frustrated about something.
- Been red on the color chart about 5 times. He is either yellow or orange on a daily basis ( not your best colors on the behavior chart.)
- Constantly climb under his desk, get up constantly during carpet him, not complete any work, etc.
- Hit other children.

I talk to his teacher today and she says like we think that we need to have a meeting with the school board ASAP. I think he needs to be moved to an inclusion class or at least have an aide. His teacher says that he does try really really hard to behave but just can't help himself most of the time. She also said that he is very bright.

I went to make an emergency appointment with Alex's neurologist only to find out that he had left the practice and no one had notified his patients.So I have called a dozen places and the earliest anyone can see him is Feb. He also has an appointment with a pediatrician that specializes in behavior. They want to rule out any type of illness which might be causing all of the problems. Teacher agrees that she thinks that it is ADHD. Though he was already diagnosed with it by the other Neuro.

I can't believe that Alex is already 5. Where did all the time go? We had a birthday part at McDonalds for him. Only 3 of his classmates showed up but he had a blast.
I have been MIA for almost 2 months. I feel like there isn't really anything to talk about half the time. Now that I have been gone so long I have loads to say.
I feel like there is always something with this school district. So at the meeting they wanted to send Alex to the summer program that they have at the school. Great. Except that today I got the paperwork for the summer program and the due date was the 14th. WTF? it was post marked yesterday and it's on a first come first service basis. I am calling the school tomorrow and need be going down there. I don't understand why the paperwork was so damn later. I never even got the paperwork for orientation. I just happened to notice on the site that it was in a few days. I am seriously not liking this school district at all.


Alex has graduation on Thursday. Rob can't make it. If he goes and takes off then he can not work over time and we really need that overtime money to pay rent.

Super last minute my family decided to head on over to my grandparent's house for fathers day. So glad that we decided to go because the whole family was there. EVERYONE! It was awesome and my grandmother was in tears because of everyone that showed up. Food was great. I love spending time with my family.
I was totally disappointed with the season premiere of True Blood :( I am not sure if I like where this whole Billith/war on humans is going. They should have sticked to the story line of the books. Ugh just ugh. I hope the season gets better. I need Sookie and Bill to be together again! gahhhh!!!! or at least maybe with Eric.


I only have 7 days to read Joyland and I am only 20 pages into it. I think I now have 5 days. Ugh.

4 days till True Blood!
So the Health Insurance guy came today. I gave him everything and we will be paying $30 a month for Alex to have insurance. No copays. Since it is through Medicaid. He said Alex should have insurance by July 1st. Which means Alex will be off to the Neurologist and an Allergist. I seriously can not wait. Especially after him getting hives last weekend.
Alex completely broke out in hives yesterday. It would go almost away with Benadryl but the second it wore off it would come back completely and worse. We called his doctor twice yesterday. By around 8ish his eye was beginning to swell. His doctor told us to give him zyrtec. That did the trick for the night. Hives 98% gone. We took him to the doctor this morning and told us just to kept giving him the zyrtec. He said it could have been anything that caused it and it pretty impossible to pin piont what could have cause it. It could have been a virus that he picked up a few weeks ago and is just making itself known now. Alex was covered with hives in about 90 percent of his body. We let him have Taco Bell Doritos taco as a treat. Well I won't be giving it to him again just in case.
I haven't been ignoring LJ for no reason. Packing has been a pain. I promise to update tomorrow.

2. Living Dead in Dallas (Sookie Stackhouse, #2) by Charlaine Harris
3 The Fault in Our Stars by John Green
4. Jane Eyre by Charlotte Brontë
5 Flowers in the Attic by VC Andrews
6.A Game of Thrones (A Song of Ice and Fire, #1) by George R.R. Martin
7. Gone Girl by Gillian Flynn
8. Lover Enshrined by JR Ward
9. Harry Potter and the Deathly Hallows by JK Rowling
10. To Kill a Mockingbird by Harper Lee
1. Les Misérables by Victor Hugo


I bought the 50mm 1.8 lens for my camera. I am not sure if I am going to keep it or not. I am leaving in a few to go take some photos before work to see how I like it. It is so tiny. I have my first paid photoshoot on Saturday and I am super excited...

There is a Orb Spider hanging out by our door. I hate spiders. I am allergic to them. *shudder*
Today was Alex's first day of pre-k. There are two kids in his class this year that were in his class last year. He had a great day. They sent home a awesome note. I have to make a copay of it and post it here. I like his teacher. Of course I feel like the outcast since I am the younger mother out of everyone and I am sort of alternative. But he was super excited.


My friend Kerry K is coming down this weekend from update. I only get to see her about once a year. So I am really excited about it. Hopefully the weather will be nice and Alex and I can go swimming.

Alex has about a week and some change of school left. Hard to believe that summer classes are almost over. He goes back a couple of days after Labor Day.

We have been having some sleep issues with Alex. He is having a hard time going to sleep. Once he is asleep he is good. I talked about it to his parent trainer. She suggests limiting his liquids and we are going to come out with a routine next week. It will most likely require no TV on and just relaxing time with a story or two. She also told us to get some books with stories about what ever falling asleep which I got at the library today.

I can not for the life of me find anything to read. I have no interest in reading. I think it is because I read so much this year already and my brain is just tired of it. I need to find something because it bothers me when I am not reading something.
Everything just hurts today. I think it is going to rain.